DacEasy Version 15 will provide you with greater accuracy, speed and control. The new features and enhancements were developed based on feedback from longtime DacEasy customers, making this version even more user oriented. DacEasy Accounting v15 works the way you work in areas that matter the most.


Here are the new and improved features of Version 15
Greater Accuracy:
Identify Transaction Notes

Improve your auditing by easily itentifying transactions with notes attached. Many lookups will display an identifier that indicates a note is associated with the transaction (See Figure 1).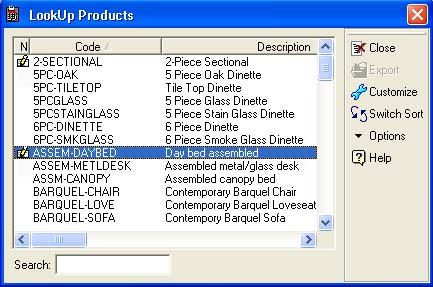 Figure 1
Remove Unused AutoComplete Data

Remove the amount of erroneous data that has collected in fields that support automatice word completion. This feature allows you to remove individual erroneus data entries in any field, entire entries for a specific field, or data entries from all fields on a form. You will be able to complete tasks faster and more accurately.
Print Federal Form 10961

This feature allows you to print federal form 1096, which is used to summarize form 1099s that are being sent to the IRS. Printing federal form 1096 will ensure accuracy and will save you from having to compile the information necessary to complete the form manually.
Greater Speed:
Save Report Parameters2

Save time when creating reports that are run often. This feature memorizes the customization choices you made when setting up the report so that each subsequent time you run the report, the choices don't have to be redefined. This can be turned on or off when desired.
E-mail Reports and Forms3

Welcome to a new way of quickly communicating information. You can e-mail reports and forms to easily exchange information with co-workers, partners, owners, customers, vendors, and more. These forms are shared as PDF attachments. E-mail addresses will be pre-populated for Reports from the Customer or Vendor Record if a record exists (see Figures 2 & 3). If no record exists, you can manually type the e-mail address.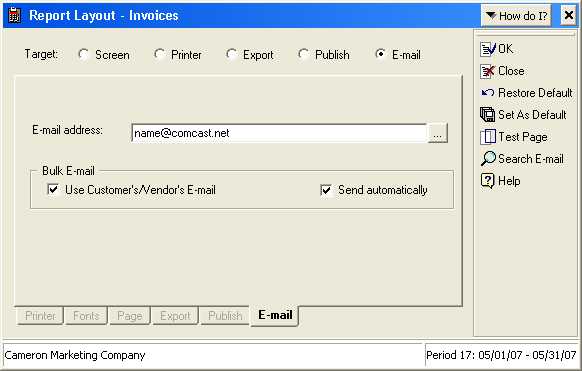 Figure 2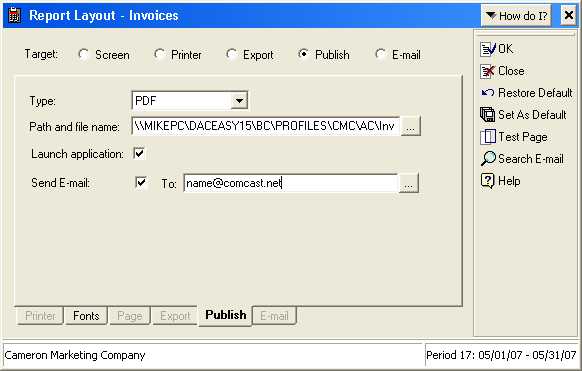 Figure 3
Customize Lookups
Reduce the time that it takes you to look up information and display more details with customizable Lookups for vendors, customers, fixed assets, and many more. You can now add more columns to the Lookups, making more information available during key processes such as entering orders or receiving payments. Plus, you can export your Lookup lists which provide even more reporting capabilities.

Greater Control:

Design forms

The form editor has been enhanced to be a more established standard designer that allows you to visualize what the forms will look like without having to print the forms. This will help you design forms by providing an image placeholder for images and geographical shapes (see figure 4).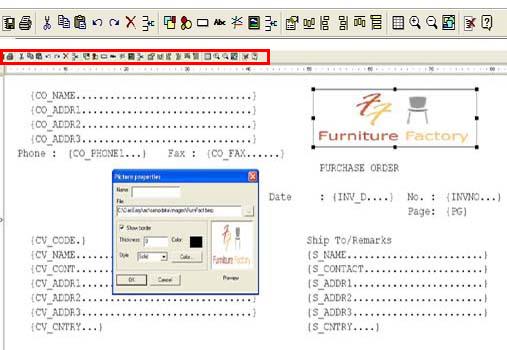 Figure 4

Improve Exporting
This feature allows more flexibility when specifying a destination path for exporting and saving files. You can now export and save to paths and file names that include spaces. It includes files sent to Microsoft Excel or HTML, or exported through the DacEasy print engine.

View Employee Vacation and Sick Time


This new report enables you to evaluate employees' vacation and sick time status. The report gives you more control when managing and developing work plans and schedules.

Take the New Features Tour
1 Updates to form changes require a subscription to DacEasy Payroll Tax Update Service.
2 This feature is not available for reports printed from the Transactions or Journals menus.
3 A simple MAPI complient e-mail program is required.
---

Legal Notices | Privacy Policy | Site Security

?2007, DacEasy (HK) Ltd., All Rights Reserved.
All other trademarks and copyrights are the property of their respective holders.